"Father Yod just gave me a thought for you. He wants me to tell you, 'Camelot.'"
On a Zoom call in March from her home in Oahu, Hawaii, Isis Aquarian recounted her time in the Los Angeles spiritual commune the Source Family, which she — through telepathic messages from the group's leader — likened to the romantic symbol of the Arthurian world.
In the 1970s, dressed in stylish, flowing gowns, caftans, robes and headscarves, she all but resembled Guinevere. "It was pure Camelot for all of us. For those who experienced it, it was something else," she added. For Isis, the Family was tantamount to utopia.
Known for its pioneering in California lifestyle staples like health food, yoga, psychedelic rock and hippie fashion, the group's leader, Father Yod, née Jim Baker, "left the body" in 1975, after a hang gliding accident in Hawaii, where the Family relocated in 1974. But Isis, now 80, said their union — she was one of Yod's 14 spiritual wives — never ended. "He's still the big guy to me, still my man," she said. "When you live in both dimensions, the veil is very thin."
To an outsider, Isis' casual references to telepathy and interdimensional existence may sound delusional. But for members of the Source Family, a group that some call a cult, it's a way of life honed over decades of study and ritualism based in Western esotericism. Their beliefs amalgamated principles developed by Kundalini yoga progenitor Yogi Bhajan; the astrological concept of the Age of Aquarius; the teachings of Manly P. Hall, founder of the Philosophical Research Society in Los Feliz; the freemasons and others. Father Yod bestowed each member with a first name; they changed their middle and last names to the Aquarian. Like many religious and spiritual groups, the Source Family placed their faith in things invisible to nonbelievers.
Father Yod, however, was hard to miss.
Their guru's virile presence and checkered past preceded him in his days as a figure on the Sunset Strip. As the story goes, Midwest native Baker was a successful restaurateur and Hollywood socialite, and also a convicted killer and suspected bank robber. At one point, his hands were registered as lethal weapons. He moved to L.A. after World War II to audition for a role as Tarzan.
Inspired by the proto-hippie lifestyle led by Nature Boys Gypsy Boots and eden ahbez, he opened early health food eateries the Old World and Aware Inn. In the late '60s, he studied with Yogi Bhajan, and began creating his own philosophy that blended various spiritual rituals, au natural living and far-out ideas like "sex magick." He then transformed into Father Yod (which he described as "the principle and origin of all things, the I, the active principle, the image of masculinity") and, later, YaHoWah (drawn from the Hebrew name for God). He developed a daily routine for the Family consisting of 40 instructions that included chanting "YaHoWha" throughout the day, breathing techniques, meditation, visualization, kindness to strangers and a six-count inhalation of the "Sacred Herb" (cannabis).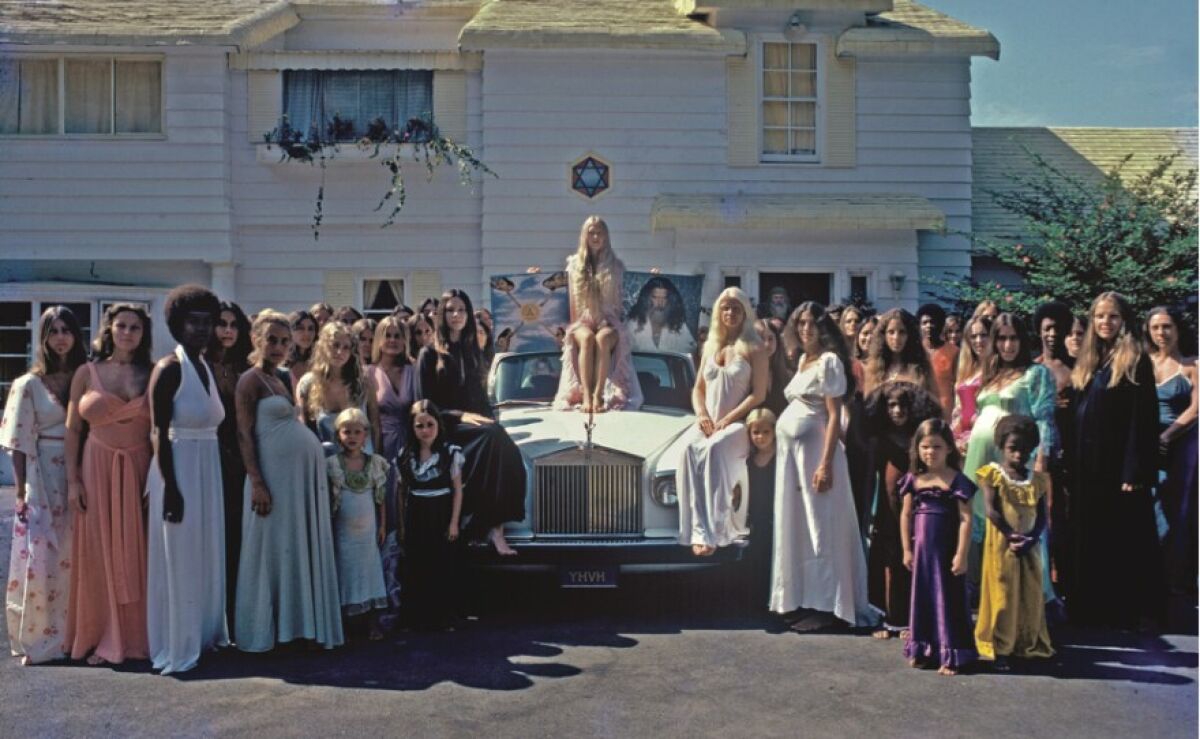 Father Yod opened the Source restaurant at 8301 Sunset Blvd. in 1969 to support his growing family of followers, and it became one of the first hotspots in L.A. for organic vegetarian food. Stars such as Steve McQueen, Goldie Hawn, Marlon Brando, Joni Mitchell and John Lennon dined on its famous patio. It became so synonymous with the only-in-L.A. narrative that it was satirized by Woody Allen in "Annie Hall" and by "Saturday Night Live."
The Family moved into a Georgian-style mansion in Los Feliz, former home of L.A. Times owners the Chandlers, which they dubbed the Mother House, in 1972. While there, they spent $30,000 on instruments and recording equipment and began tracking and pressing psychedelic rock and singer-songwriter music. After they lost their lease, they relocated to a much smaller, three-bedroom home in Nichols Canyon. At its peak, the Source Family counted around 140 members, including Lovely Previn, daughter of pianist and composer André Previn, Sky Saxon of garage-rock band the Seeds and the niece of former Los Angeles Mayor Tom Bradley.
Though the Source Family disbanded in 1978, fascination with the group and its practices has surged in the new millennium. Since the mid-aughts, there have been documentary films, books and multiple CD and vinyl record reissues of the group's music. Bootleg T-shirts, hoodies, mugs and stickers appear in Google search results. All of these may be traced to a vast collection of images, video and audio recordings, recipes and manifestos that has survived the march of time.
After joining the Family in 1972, Isis Aquarian, who was born Charlene Peters, the daughter of an archivist for the Air Force and NASA, served as the group's documentarian, creating the artful material that has been drawn from for various archival projects over the last 15 or so years. After the group fell apart, she made it her mission to preserve the Family's legacy.
Most recently, in November, Isis, curator Charlie Kitchings and filmmaker and publisher Jodi Wille, who has previously worked with Isis on a book and a feature documentary, released "Family: The Source Family Scrapbook" in conjunction with the independent record label Sacred Bones. The book includes previously unpublished photographs and ephemera from Isis' archive and detailed captions that contextualize the images. Isis also moved her archive, around 50 boxes of materials, to the American Religions Collection at the UC Santa Barbara library. In conjunction with the book's release, a series of Source Family events took place in Santa Barbara, Los Feliz, Malibu and Culver City in late March.
And now, Hollywood is getting involved.
At a private dinner in Malibu on March 25 sponsored by the media company Atlas Obscura, guests including actors Patricia Arquette and Mark Ruffalo, music producer Rick Rubin, actor and producer Ben Sinclair, original Source Family members and other curious parties were invited on "a journey into the cult roots of health food." The menu, inspired by dishes at the original Source restaurant, featured seven courses including "psychedelic toast," "multidimensional soup" and a re-creation of the restaurant's "aware salad," served by staff engaged in Source Family cosplay, dressed in flowing white frocks and wigs. Isis and fellow Source Family members Venus, Zerathustra and Galaxy Aquarian blessed the meal with a ritual they performed in the Family. "As above, so below, and around, we go, YaHoWah," they chanted with corresponding hand gestures, as if guiding energy around the 40-person table decorated with poppies, dill flowers, wheat and cut papaya, a flower child's rendering of a medieval banquet.
Arquette, who spent her childhood in a Subud commune in Virginia, said she's always been fascinated by various religious philosophies and spiritual seekers. "It's been nice to talk to these elders who are here, about their radical experiences as young people," she said. "Especially when they talked about how Father Yod went down his own ego path. That they acknowledged it made me feel like there's not an absolute revisionist history."
The Malibu event doubled as a hub of in-progress Hollywood spiritual ventures. According to Wille, Ruffalo, his manager Margaret Riley and the producer Stacey Sher are working on a Source Family limited series in which Ruffalo will play Father Yod. Sinclair is developing a series about the spiritual leader Ram Dass while Rubin is producing a docuseries about Yogi Bhajan. Two days after the event in Malibu, Rubin sent a limo for Isis and interviewed her for three hours with a full camera crew because, he said by email, that he's "excited by … Isis Aquarian's bird's-eye view of Jim Baker's evolution from successful man of the world to spiritual leader, whose ever-curious hunger for deeper spiritual connection was shared by 150 like-minded souls."
Rubin said he learned about the Family after he moved to California in the late '80s and began dining at the Source Restaurant. "Something about the space held an energy even though the Source Family had already moved on." During Father Yod's lifetime, wrote Rubin, "The Source story was a local story. Now it's global."
This renewed interest in the Source Family comes in addition to a rising interest in cults more broadly in popular consciousness, evident in the flood of streaming series such as Netflix's hit show "Wild Wild Country," about the Rajneeshees; HBO's "The Vow" and Starz's "Seduced: Inside the NXIVM Cult," competing programs about the high-profile NXIVM cult; Hulu's "Stolen Youth: Inside the Cult of Sarah Lawrence"; Showtime's new "Waco: The Aftermath"; and a myriad of documentaries, limited series and podcasts on Scientology, Branch Davidians, Jonestown, the polygamist Church of Latter Day Saints and the Manson Family.
So what keeps people coming back to the Source Family? The rise of wellness trends like sound baths and microdosing suggests a growing open-mindedness among America's upper middle class of mystics. But close examination of the Source Family, beyond its organic produce and hippie bon vivants, reveals an offbeat world that is perhaps too freaky for Goop Nation writ large. Southern California, however, is a different scene. "In L.A., people like weirdos," Wille said. Los Angeles is also a hub for reinvention, a storied destination for seekers. It's true now, and it was true then. "I was living in New York and was totally drawn to L.A.," Isis added. "Everybody just started filtering into the Hollywood area."
When the Source Family formed, the social and political climate in the United States was volatile, with an unpopular war in Vietnam, the women's liberation movement, violence against Black citizens and assassinations of progressive leaders. A growing number of Americans desired a different way of life, to drop out of all the social and political heavyosity and create a better world. It's estimated that between 2,000 and 3,000 communes existed in the United States in the 1960s and '70s.
Fast-forward 50 years, and it seems that little has changed. "What was happening back in the early '70s was, in some ways, really similar to what's happening right now," Wille said ahead of a private dinner and public Q&A at a ranch in Malibu. "There's political polarization and a lot of things that people are unhappy about."
J. Gordon Melton, retired distinguished professor of American religious history at Baylor University, who's studied new religious movements since the early '70s, said that the Source Family managed to evade the burgeoning scholarship movement in its day, which became overshadowed by groups like the Unification Church, the Hare Krishna movement and the Church of Scientology. "If this group had hung around for a couple of more years on the Sunset Strip, they would have been at the forefront of our consciousness," he said.
As for any dangers related to the Source Family, Melton said that such groups either have an inherently violent streak or react violently when they perceive an attack. "And this group was never really attacked," he said. Unlike groups like the Manson Family and the Peoples Temple, the Source Family didn't engage in mass suicide or murder, though their staunch refusal of Western medicines resulted in at least one very sick child being admitted to a Los Angeles hospital.
Zarathustra Aquarian; his wife, Amy; and their daughter, Alyah — who's also a "psychedelic clown" who leads "interdimensional travel demonstration and practicum" — applauded the discipline and openness that Father Yod's teachings introduced. Zarathustra and Amy applied many of the Family's principles in their marriage, including natural childbirth and the belief that sex is sacred, even though they didn't get together until years after the Source Family fell apart. "It was the greatest utopian community to ever occur around spiritual work," he said.
Galaxy Aquarian, born Dawn Hurwitz, joined the Family in 1972 when she was 16 years old, and eventually became one of Father Yod's spiritual wives and the clothier for the Family, making fantastical dresses and robes. She described her younger self as a firebrand who was getting into a lot of trouble, and said she appreciates the group's emphasis on consistency, kindness and honesty.
"I took a lot of that with me, but I've adapted to life," she said. "I married another man. I've worn several hats." She's working on a memoir about her time in the Family, which she was asked not to promote during the events. Hurwitz spoke during a Q&A in Los Feliz, but not at the roundtable in Malibu two days later.
Though interest in the Source Family seems to be reaching an apex, it's been a long time coming. "Record collectors knew about them before anybody else," said John Wyatt, founder of Cinespia, which screens classic films in locations across the city. Since the 1990s, he's been a collector of rare, obscure and private press records sourced from area thrift stores, estate sales and flea markets.
Wyatt recalled a time when vendors were moving records by Ya Ho Wah 13, Father Yod and the Spirit of '76 and other Family-related recordings for $20 or less because the Source had fallen out of fashion and the sellers "didn't know what they had." The first Source-related album he bought was "Penetration, An Aquarian Symphony," a four-song heavy-psych improvisation with fateful guitars, whistling and off-kilter percussion. "It blew my mind," he exclaimed while studying his copy. "The cover image with the gong, the label design, that they had their own Higher Key Records."
As is the case with a lot of niche music, word eventually spread. Some Source-related recordings were included in author Patrick Lundborg's 2006 book "The Acid Archives," a North Star for certain music lovers. Today, original pressings of records featuring Father Yod — there were about 20 LPs and 45s released in the 1970s — sell for hundreds of dollars.
A Q&A at the Philosophical Research Society on March 23, which followed a screening of Wille's 2013 documentary "The Source Family," made with Maria Demopoulos, turned into one of the more heated discussions that Wille and the Family have participated in since they began working together. Some audience members implied that the film's narrative arc, and the family member's answers that night, were selective, omitting Father Yod's use of alcohol and cocaine. One questioner politely asked if the three female Family members on stage — Isis, Galaxy and Venus — if they were aware, at the time, of the negative perspectives presented in the film, or if they feel negatively about the Family today. Another asked about patriarchy and power structures.
At one point, a former Source Family member, Hail Aquarian, stood up in the audience and approached the stage with a small dog and some tea to spill. In a lengthy anecdote, he implied that Father Yod expressed his intent to "leave the body" to a few Family members a month before the actual hang gliding accident, undermining the narrative that Yod never traveled alone or without all of his wives. "I never heard anything about that," Isis responded before debating the claim.
"That got a little spicy," Wille reflected, two days later in Malibu. "It's really interesting to think about wild social experiments that were happening in the '70s when no one was monitoring things or canceling things," she added. "What I like most is that the Source Family members each have their own ideas."
As long as she's visible to others in this Earthly dimension, Isis Aquarian will keep promoting the Family and sharing her experience. In her estimation, all of "the stories behind stories behind stories of everything" are still unfolding. And Southern California will always be home, the place where she felt most understood. "We were the darlings of L.A.," she said.